Welcome to The Nightingale Channel's Hospital Partnership Program.
We are dedicated to enhancing the patient experience and supporting the well-being of hospital staff. Discover how we're making a difference in hospitals and how you can connect with us.
Our
Collaborating
Hospitals
We are proud to collaborate with UCLA Health, UC Davis Health, Keck Medicine of USC, Loma Linda University Medical Center, City of Hope, and Augusta University Health. The Nightingale Channel has also been adopted by the MonteCedro Retirement Community as well as ConnectCare Hero, delivering video programming to assisted-living facilities. "The Nightingale Channel is such a beautiful, impactful and unexpected gift to offer patients and families who are going through one of the hardest times in their lives. Regardless of how deeply we care for and support our patients here, the journey through cancer treatment is invariably a really difficult one. It is long, it is hard and there are invariably periods of suffering. Music is a universal language – I don't think there's a person who doesn't enjoy or respond to music in some way. It has been shown to have major benefits in pain management, anxiety reduction and overall emotional regulation."
Supporting
our partner
Hospitals
At The Nightingale Channel, we stand by our partner hospitals every step of the way. We provide the artwork for personalized promotional materials, including posters, coasters, stickers, and buttons, each featuring a QR code for easy access. Our dedicated team offers ongoing support, ensuring that hospitals can seamlessly integrate The Nightingale Channel into their care environment.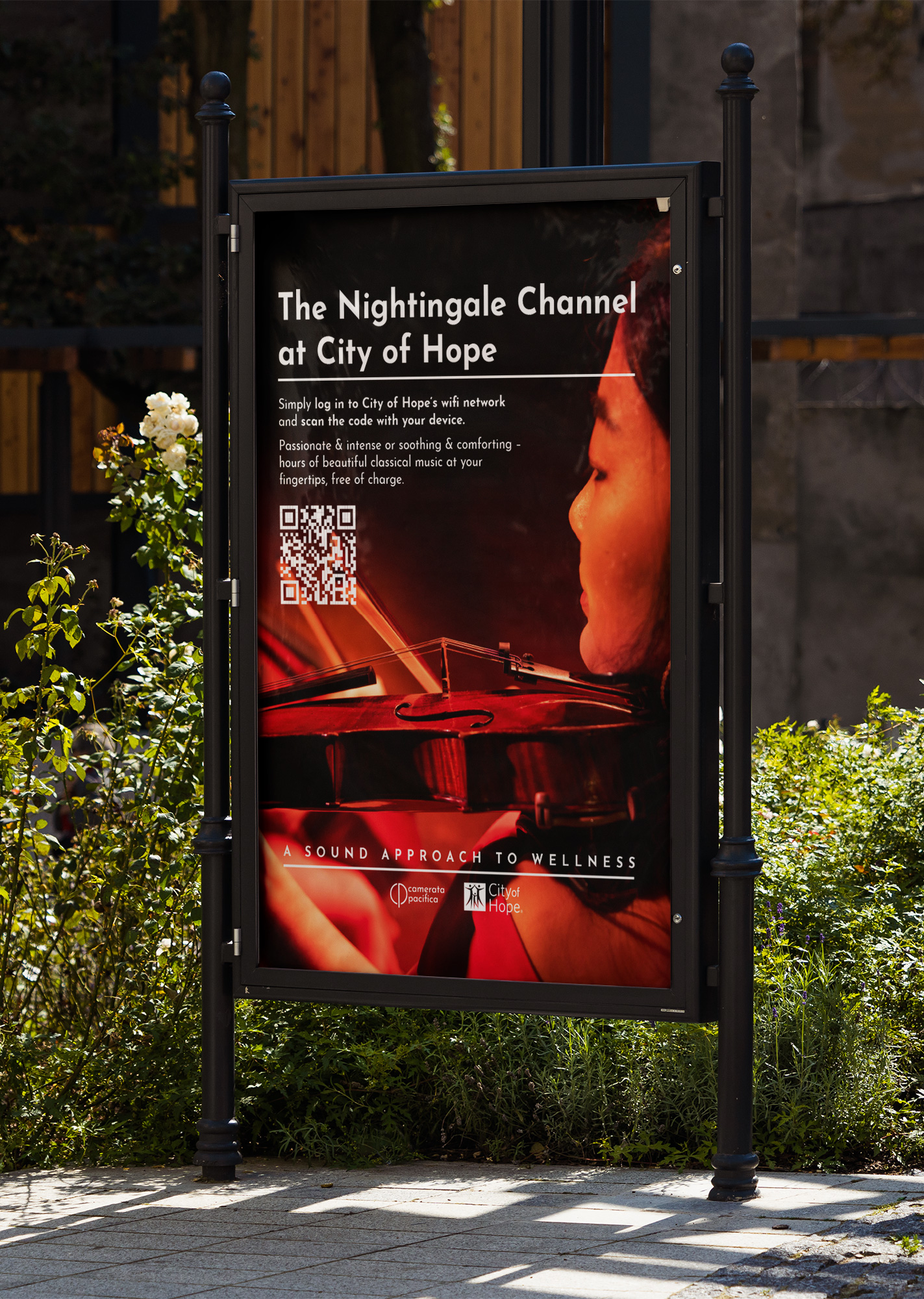 Are you or a loved one currently receiving care at a hospital? You can find The Nightingale Channel available in various hospital settings, including waiting rooms, dialysis centers, chemotherapy facilities, and more. To locate TNC in a hospital near you, simply inquire with the hospital staff, or look for our QR code for personal device access. 
Through the universal language of music, we can offer solace, comfort and inspire hope. Join us. Please contact Camerata Pacifica's Operations Manager, Al Simpkins.